Shopping
"What a happy day for booksellers, music-sellers, and print-shops!"
—Sense and Sensibility, Chapter 17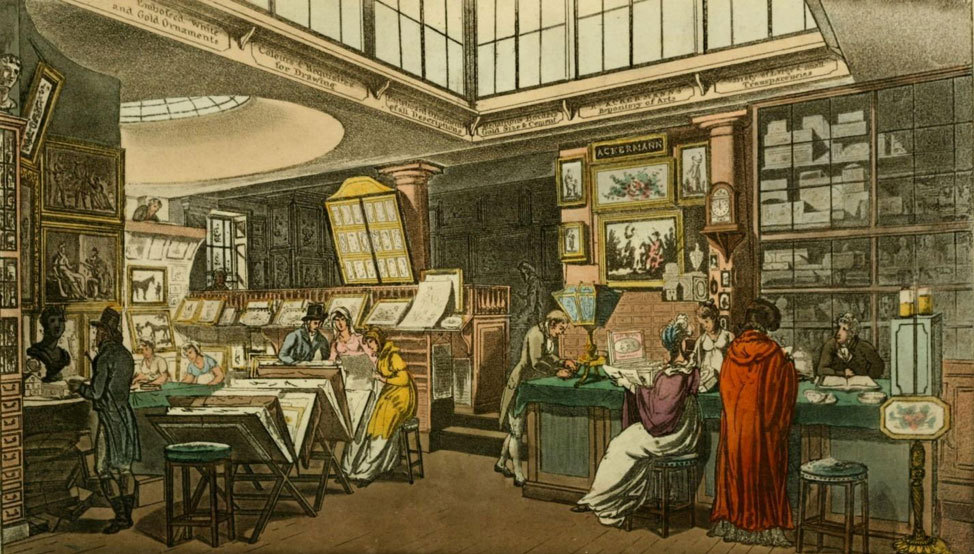 Whether you are like Elinor Dashwood, who visits London shops to accomplish specific goals, or resemble Mrs. Palmer, "who was wild to buy all, could determine on none, and dawdled away her time in rapture and indecision," the AGM and the quaint streets of Victoria will satisfy your shopping requirements!
The Regency Emporium
Thursday, 8:00 am to 8:00 pm
Friday, 8:00 am to 8:00 pm
Saturday, 8:00 am to 5:00 pm
A JASNA tradition, the Emporium offers merchandise specifically tailored to the desires of Austen readers: books, Regency apparel and accessories, stationery, books, fabrics, Austen-themed giftware, and more books! The Emporium will be in the Victoria Conference Centre, convenient for visits between AGM programs. We are expecting Canadian and U.S.-based vendors, several JASNA Regions, and Chawton House Library and Jane Austen's Regency World.
JASNA Night at Munro's Books
Wednesday evening, hours TBA
Munro's Books, an independent bookstore founded by Jim Munro and his first wife, author Alice Munro, is a landmark in Victoria. With its heritage building and striking artwork, Munro's is considered among the world's most beautiful bookstores. AGM early-birds can kick off their Victoria experience by visiting Munro's on an evening set aside for JASNA members and their companions.
Shopping at Soho Bazaar
Saturday, October 1, 3:00 pm - 4:00 pm
Opened in 1816, London's Soho Bazaar was a market specializing in the sale of "fancy goods," such as jewelry, gloves, and millinery, for charitable purposes. A later publication described the Bazaar as "a fashionable lounge for ladies and children, and especially attractive to 'country cousins'" – so we can imagine the Steele sisters, and possibly the Dashwoods, shopping there. For our Soho Bazaar at the Victoria Conference Centre, we'll accept donations of Regency-style "fancy goods" on Thursday and Friday (please see instructions) and will open the Bazaar on Saturday afternoon, just in time for you to find a new treasure to accessorize your outfit for the Banquet and Ball, or take home to a Janeite friend. Most items will be just a "loonie" or U.S. dollar (bring cash!). Those who donate will receive a ticket enabling them to choose an item for free.
Out and About in Victoria
Victoria, BC is a tourist town and a lovely city to shop, with a compact downtown just a stone's throw from our AGM hotels! Whether you seek First Nations artwork, locally made jewelry, British-themed gifts, presents for kids, distinctive clothing, or something else, you'll find it in Victoria.
Here are the main shopping streets, with just a few of the AGM Coordinator's recommended stops on each:
Government Street
The Fairmont Empress is on Government Street, and turning right down this street when leaving the hotel lobby will take you to some lovely shops. Check out these places and more:
Munro's Books (lovely independent bookshop)
Migration (for handmade goods)
Sasquatch Trading Ltd. (locally owned)
Cowichan Trading Co. (locally owned)
Roberta's Hats
Kaboodles Toy Store
Lush Fresh Handmade Cosmetics (buy a bath bomb and relax in your hotel room!)
Glam & Fame (Women's clothing)
Irish Linen Stores
Fan Tan Alley
Also known as the narrowest street in North America. Walk down Government Street (away from the Empress), and turn left on Pandora Street and you will find the entrance. Walk through to the other side and you'll find yourself directly in Chinatown!
Heart's Content (funky fashion shop)
Triple Spiral (metaphysical supplies)
The Umbrellatorium & Canery
The Turntable (records)
Fort Street
Russell Books (two floors of new and used books, and more!)
Oscar & Libby's (cards, novelty gifts, puzzles, jewellery, and some Jane Austen goodies!)
The Papery (lovely stationery shop)
Two Otters (great gifts for kids)
Ditch Records & CDs
Johnson Street (specifically LoJo – Lower Johnson)
The Regional Assembly of Text (stationery, cards, cute buttons)
The Dancing Lily (fashion boutique)
Good Vibe Space (great gifts, local and imported)
Nezza Naturals (organic, eco-friendly beauty products)
Other Shops of Interest . . .
Needlework Button Boutique (great shop for embroidery and needlework supplies, Trounce Alley)
Bug Zoo Gift Shop (great gifts for kids, and check out the bugs if you have time, Courtney Street)