Livestream/Virtual Option
There's nothing like the full, in-person JASNA AGM experience and "the company of clever, well-informed people, who have a great deal of conversation. But for those who can't travel to Victoria this year, we are also offering a Livestream/Virtual AGM option. You can participate in the core conference online in real time, wherever you are in the world, as long as you have a high-speed internet connection. All livestreamed presentations will also be recorded and available to virtual attendees to watch for a month following the AGM.
Livestream and Recorded Content
Beginning with the official Opening of the AGM, we will stream all three Plenary Lectures and five breakout talks held in the general session room. You can share in the energy of the conference as it happens and participate by submitting questions for the speakers during Q&A sessions.
The following sessions will be streamed live, as well as recorded for later access:
AGM Opening
Carol Medine Moss Keynote Lecture by Dr. Emma Clery
North American Scholar Lecture by Dr. Robert Morrison
Sunday Plenary Lecture by Susannah Fullerton
Breakout Sessions:

A3. "Picturesque vs. Practical: Jane Austen's Complex Portrayals," by Victoria Hinshaw and Kim Wilson
B1. "Colonel Brandon and Military Service in the East India Company," by Dr. Celia Easton
C4. "Sense and Sensibility: Jane Austen's Most Religious Novel?," by Dr. Roger E. Moore
D5. "Thoughts on the Education of Daughters in Sense and Sensibility," by Dr. Susan Allen Ford
E1. "Jane Austen in London with the Dashwoods," by Donna Fletcher Crow

Promotions for Future AGMs, and AGM Closing
In addition, you can watch recordings of the following special features, although they will not be streamed live:
"English Fashion in the Time of Jane Austen, 1775-1817," by Ivan Sayers, Fashion Historian
"Gender and the Decorative Arts in Austen's Novels," by Kristen Miller Zohn
The Saturday Evening Regency Promenade
Additional special features may be added later. All of these sessions are described on the 2022 AGM Plenary Speakers, Breakout Speakers, and Special Sessions webpages.
Interactive Elements
Thanks to technology, you will also be able to connect and socialize with other JASNA members during the conference. With the Livestream/Virtual Option, you may:
Submit questions for speakers during the livestreamed Q&A sessions
Meet and chat with other virtual attendees at a virtual Social Hour on Zoom
Joining in on the AGM Livestream experience is the next best thing to being there!
Eligibility and Fees
Just like the in-person AGM, the Livestream/Virtual option is open to JASNA members only. Connections are not shareable, but you may have family members or others physically present watch the AGM on your screen with you.
JASNA Member Fee: $160
JASNA Student Member Fee: $125
You may pay by credit card, U.S. check, or Canadian check. If paying by Canadian check, the amount due in Canadian dollars is $213 (JASNA Member) or $161 (JASNA Student Member). The online registration system processes credit card charges in U.S. dollars.
Important Dates
Because the technology and professional services required to produce a high-quality livestream event are expensive, JASNA must guarantee a minimum number of participants by July 31 to go ahead with the Livestream/Virtual option. This and other important dates are shown below.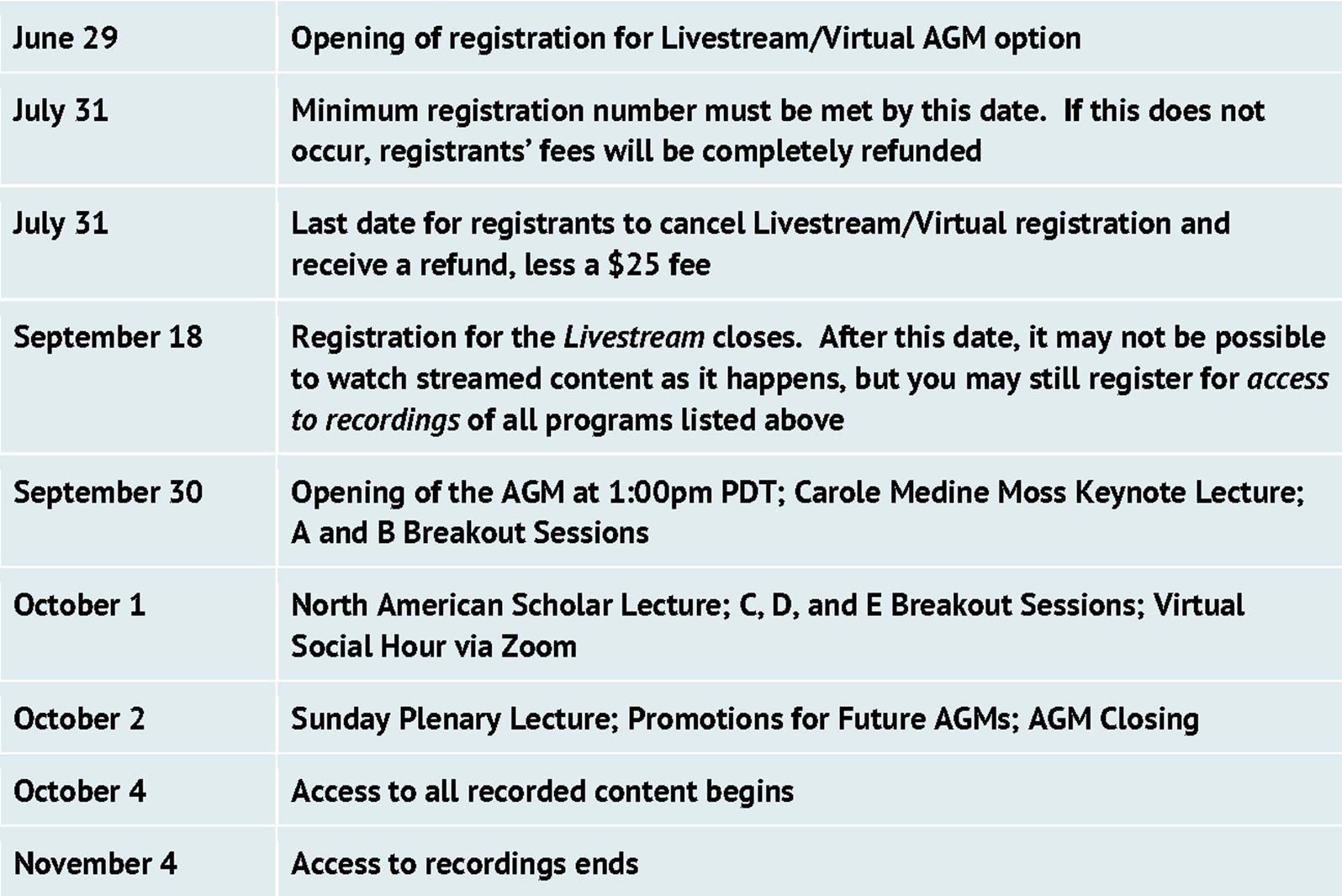 Registration and Refund Policies
Registration for the Livestream/Virtual AGM option will open on June 29, 2022, at 12 noon EDT/9:00 a.m. PDT. After the opening time, go to the Registration webpage and click on the REGISTER NOW button.
If your availability on AGM weekend changes, you may:
Retain your registration and watch the recordings at your convenience until November 4, 2022.
Cancel by July 31 and receive a refund of your registration minus a $25 cancellation fee.
Cancel after August 1, with no refund.
If you decide to travel to Victoria, you may convert your Livestream/Virtual registration to an in-person registration at any time, as long as space is available. Your Livestream/Virtual payment will be applied toward the in-person fee, with you paying the difference. Upon conversion, cancellation and refund policies for the in-person AGM will apply.
Registrants for the in-person AGM may switch to the Livestream/Virtual option. See the Refund Policy on the Registration webpage for details.
Technical Details
Instructions for connecting to the Livestream platform will be sent to you before the start of the AGM. Some technical requirements include:
Each registrant must have a unique email address.
Registration login is portable, but will only work on one device at a time.
Couples wanting to have separate logins must register separately, using different email addresses.
Members of the same household watching together on the same computer may do so on one registration. Registrant accounts cannot be otherwise shared. JASNA reserves the right to take other actions to prevent unauthorized use of AGM content.
Recording or distributing any part of the AGM is prohibited.
Browser Requirements: Chrome and Chromium-based browsers are recommended for optimal performance, but any modern browser should work. (Microsoft's Internet Explorer browser is not recommended.)
Internet Requirements: We will be streaming high-definition video, so having a good Internet connection is important for a good viewing experience. A minimum Internet download speed of 10mbps is recommended. You can go to https://fast.com/ to check yours. Also, keep in mind that if other members of your household are playing online games or streaming movies while you're watching the AGM, performance may be affected.